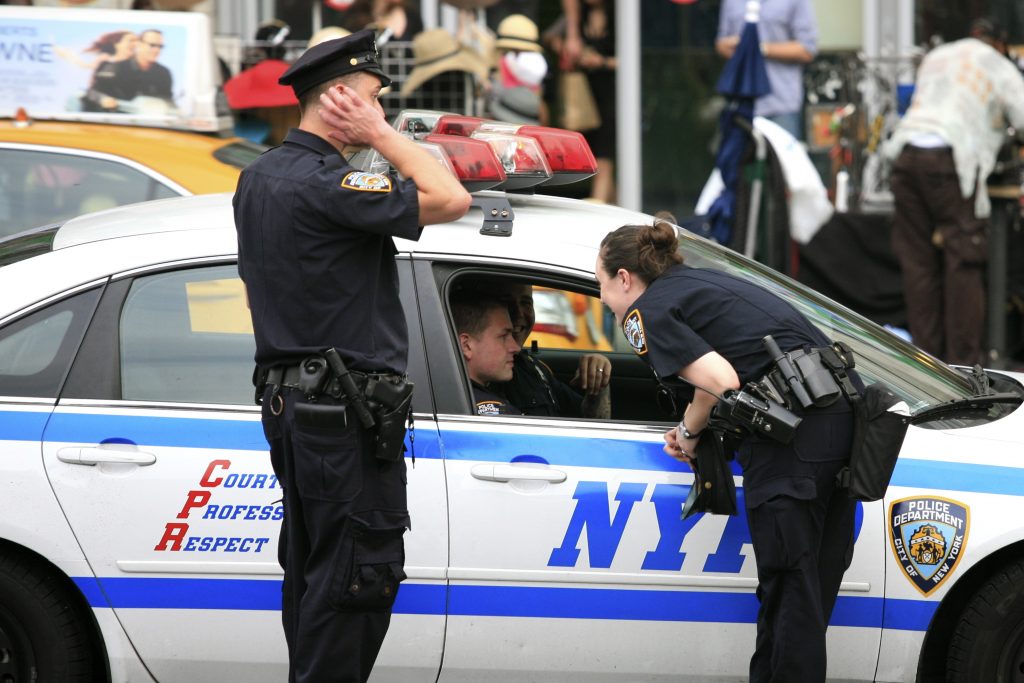 Do you trust the police in your neighborhood? Would you be comfortable asking the police for help?
Before the Black Lives Matter movement catapulted the issue of police brutality to a national conversation during the 2016 presidential campaign, New Yorkers have long had a complicated relationship with police, particularly among blacks and Hispanics, and among Muslims. Building trust between police and the communities they serve is essential to officers' ability to be effective in their jobs.
ISLG has found that racial/ethnic and religious disparities persist in trust in police. ISLG's 2016 Public Survey, with responses from 3,003 New Yorkers, found that 29.6% of Muslim, 25.5% of black, and 15.8% of Hispanic respondents reported they would not feel comfortable calling the police for help. In 2015, the numbers were 19.0% for Muslim, 26.4% for black, and 20.2% for Hispanic respondents.
How to Serve Diverse Communities, a 2016 report by the Department of Justice's Office of Community-Oriented Policing Services and the Vera Institute of Justice found that relations between local police and Muslim Americans have become complicated since 9/11, as Muslim Americans have increasingly been victims of hate crimes and profiled as terrorism suspects and as new policies and practices have threatened civil liberties. Although trust between police and Muslim Americans has been strained for the past 15 years since 9/11, the sharp decline in trust among Muslims New Yorkers in the last year could be related to other recent events outside of New York City, including domestic terrorism, ISIS, and the normalization of refugee-related Islamophobia.
Killings of unarmed blacks by police officers and injuries or deaths for those under law enforcement supervision have received broad media coverage, increasing public awareness and scrutiny of police departments across the country. It is somewhat surprising, then, that levels of trust remained steady among blacks in New York City. It is possible that negative coverage and events were counterbalanced by the work of the NYPD's Community Affairs Bureau, and the continued effect of ending stop-and-frisk in the city.
The NYPD has made significant efforts to improve community relations and to increase transparency, which may help to make them more trustworthy and accountable. These include:
Plans to recruit more black and Muslim police officers to improve city's residents' trust among groups whose relationships with police are strained.
A pilot program in four communities where beat cops are tasked with building relationships instead of answering 9-1-1 calls (for one-third of their shifts the officers are exempt from answering calls and instead work on fostering relationships with community members).
Signing of legislation by Mayor de Blasio (in August 2016) which clarifies "use of force" by police and collects data on the number of times it is used and what it results in (e.g., arrest, summons, desk appearance).
Mending police relations with communities also requires city intervention and support outside of the NYPD. A number of key initiatives furthering this goal were implemented this year. Notable among them are:
Passage of Local Law 70, creating the Department of Investigation's Office of the Inspector General for the NYPD (OIG-NYPD), independent of the NYPD. The OIG-NYPD investigates and makes recommendations to the NYPD to increase effectiveness and the public's confidence in the police force and to build stronger police-community relations.
Civilian Complaint Review Board (CCRB)'s Data Transparency Initiative, featuring a new website with 10 years of CCRB data (66,000 complaints, 192,000 allegations of police misconduct, 86,000 victims and alleged victims, and summary level data of approximately 36,000 current NYPD officers over their entire career).
Agencies like CCRB and OIG-NYPD give the city a way of constructively offering feedback on the NYPD. Yet disconnects remain. An October 2015 OIG-NYPD report found that the NYPD rarely takes up CCRB recommendations for disciplinary action, and recommended greater uptake. Perhaps doing so will increase confidence among both racial/ethnic and religious minorities in future.