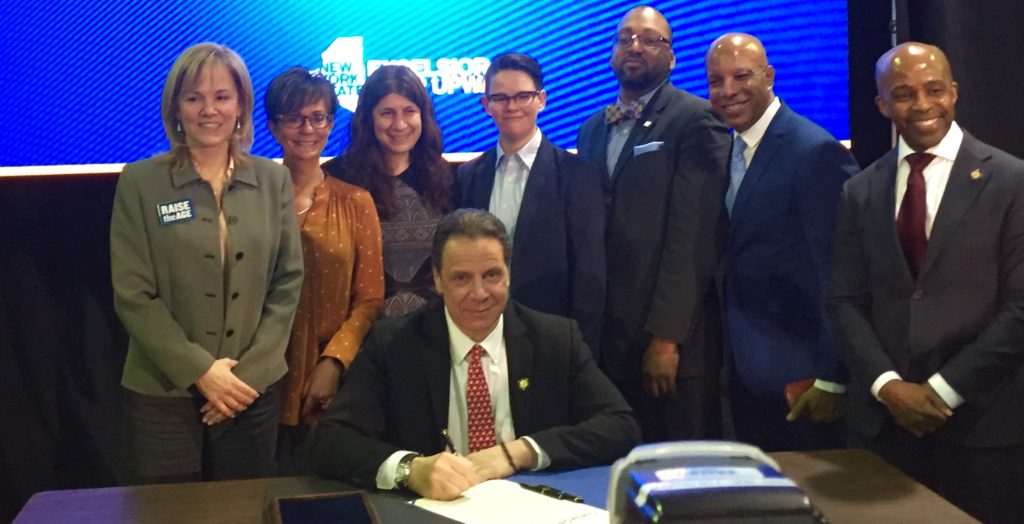 Pictured: Stephanie Gendell (third from left) and Elizabeth Powers (fourth from left) with members of Raise the Age NY and Governor Cuomo as he signs Raise the Age into law.
Until recently, New York State was one of two states in the country that treated 16- and 17-year-olds as adults in the criminal justice system. Nearly one year ago, on April 10, 2017, Governor Cuomo signed Raise the Age legislation into state law, which changed the age of criminal responsibility to 18. The law will go into effect this October for 16-year-olds, and in October 2019 for 17-year-olds.
Currently, 16- and 17-year-olds are prosecuted as adults in court, detained in adult jails, and, if incarcerated, are sent to adult prisons. Adult justice system involvement creates lifelong barriers to education, employment, and housing that are especially damaging for young people to experience so early in their lives. Incarceration takes its toll on everyone, but young people are particularly susceptible to the physical and psychological traumas of incarceration, which can profoundly affect their development and ability to successfully transition back into their communities. Indeed, research has shown that recidivism rates are higher for New York State youth who have been incarcerated in adult facilities than for those in other states who have been involved in only the juvenile system.
The prosecution of youth as adults also disproportionately impacts youth of color.  Although Black and Hispanic 16- and 17-year-olds constitute just a third of their age cohort statewide, they make up more than 80% of youth incarcerated.
Raise the Age NY, a public awareness campaign comprised of more than 100 diverse organizations from across the state, has been working collectively since 2013 to ensure passage of the new legislation and to improve outcomes for youth statewide.
To mark the one-year anniversary of the Raise the Age legislation, the Equality Indicators project spoke with Elizabeth Powers of Children's Defense Fund – New York and Stephanie Gendell of Citizens' Committee for Children of New York—two lead organizers of the Raise the Age NY campaign—about the role of the campaign in helping to pass the momentous legislation and what additional changes they want to see to support young people going forward.
QUESTION: What do you see as the role of the Raise the Age NY campaign in the ultimate passage of the new legislation in New York State?
ANSWER: The primary role of the Raise the Age NY campaign has been bringing together and coordinating advocacy efforts across New York State. Raising the age of criminal responsibility in New York had been on the political radar for a long time—the State Assembly had been introducing related legislation for the past 12 years. Our campaign launched in 2013, and it is incredibly diverse, with organizations from all over the state. Through coordinated press and public education efforts, we were able to build slow and persistent momentum for raising the age statewide.
The campaign also had the resources to bring on lobbyists and a public relations firm, which facilitated government relations and brought a lot of media attention to the issue. The first goal was to educate the public around the Raise the Age issue, and then once the issue entered public debate, we needed to come up with ways for all campaign members to speak competently regarding what specific changes we wanted to see. The campaign served as a central convener to develop and coordinate talking points and messaging so that everyone had the same materials in each location. We collectively developed seven principles for a comprehensive Raise the Age policy, which helped us negotiate with policymakers as a unified group. The new legislation encompasses most of them, with the exception of raising the lower age of juvenile delinquency.
Q: What were some of the greatest hurdles in passing the legislation?
A: Public education and awareness have been our greatest challenges. Up until the day the new legislation was passed, many people still weren't aware that New York was one of two states where young people were charged as adults and that any 16-year-old who went to jail would be going to an adult jail. Another challenge was that there are competing political priorities at the state level, so we had to maintain the momentum on this issue while many other issues were seeking attention.
Q: What were some of the advocacy strategies that facilitated the passage of the legislation?
A: The dedication of all campaign members to raising the age was critical to its success. It was a truly collaborative effort and could not have happened without the many tireless champions advocating for change across the state. We had countless interactions with elected officials and their staff—some of those were through public advocacy days that involved a lot of organizing, and some took the form of smaller meetings. We had a significant media campaign that included a lot of press coverage and hundreds of articles and op-eds, as well as a strong social media strategy. We also gained significant support from clergy across the state because protecting youth is a natural interest in the faith community. Statewide support from all religions helped shift the framing of Raise the Age from a political issue to a moral issue, and that created a lot of momentum.
Q: What are the primary concerns that Raise the Age NY has regarding implementation of the new legislation?
A: Our primary concern is whether counties will have the resources they need to successfully implement Raise the Age policy. The proposed state budget includes $100 million for implementation, but it is unclear at this stage how much each county will need because their implementation plans have only just been submitted.
No counties are guaranteed funding, but New York City is particularly at risk—the state provides funds as reimbursements for meeting certain conditions, and those conditions are currently worded in a way the excludes New York City from accessing funds. There are also a number of related budget cuts that will affect implementation. For instance, a large percentage of youth in New York City will now be going into the juvenile system rather than the adult system, but the proposed state budget eliminates all funding for Close to Home, the residential placement services for young people through NYC Administration for Children's Services. The budget also caps funding in New York City for important child welfare programs, including alternative juvenile justice programs. Right now, our advocacy is focused on ensuring that all counties, including those in New York City, receive the resources they need to implement effectively.
The Raise the Age advocacy story isn't over until the youth system—including courts and facilities—is set up to effectively accommodate the young people who will be affected by the new legislation. The funding is an important piece, as is ensuring that the law is implemented in a way that is in line with what was intended.
Q: Beyond raising the age of when a person is prosecuted as an adult, what else is necessary to improve outcomes for young people?
A: Resources such as afterschool programs, internships, and employment programs that keep kids engaged in a positive way, and ideally prevent young people from ever entering the justice system at all. There are also additional pieces that we advocated for but were not incorporated in the law, and those are opportunities for possible future change. For example, we had also pushed for an expanded youthful offender status and for raising the minimum age for juvenile delinquency. These are pieces that require continued advocacy.
Another important issue revolves around the specialized secure juvenile detention facilities newly created by the Raise the Age legislation. These facilities will house 16- and 17-year-olds who are detained pretrial, including those who will be transferred off Rikers Island by October 2018. The design and operation of the facilities are not dictated by the legislation, but we know they will be operated by Administration for Children's Services in conjunction with the Department of Correction (DOC). We want the facilities to resemble other youth facilities as much as possible and provide maximum benefit to the young people residing there. Most importantly, we want to prevent the transfer of the unacceptable conditions from Rikers to the new facilities, considering the alarming plans to staff them with DOC correction officers.
Q: Raise the Age NY pushes for a restorative approach to youth justice. Can you tell us more about how schools and other institutions can play a role in restorative justice?
A: There is a big movement within the NYC Department of Education to embrace restorative justice. The City Council has funded a pilot program for 25 schools in the city, and there have been several other investments in restorative justice for youth in New York City. This issue is tied to Raise the Age because if 16-year-olds are automatically tried as adults, certain issues taking place in schools would have adult consequences such as an arrest or summons. Even with the new legislation, it is critical to address harm and issues in schools that do not involve the criminalization of youth at any level.
Elizabeth Powers is the director of youth justice at the Children's Defense Fund – New York (CDF-NY) where she oversees the youth justice policy portfolio. Prior to CDF-NY, she worked at The Legal Aid Society as a forensic social worker alongside attorneys representing children in New York City's Family Court in Brooklyn and the Bronx. As part of Legal Aid's Special Litigation and Law Reform Unit she contributed to impact litigation on behalf of children in New York's Child Welfare and Juvenile Justice systems.  Elizabeth earned her Master's in Social Work degree from Fordham University in 2008. She completed her Master's thesis with the New York City Department of Health and Mental Hygiene, analyzing a pilot mental health treatment modality for incarcerated people held in punitive segregation at Rikers Island. She has instructed a course on forensic social work practice at Fordham University's Graduate School of Social Service and served as faculty instructor for the Pinkerton Fellowship Initiative within the Prisoner Reentry Institute at John Jay College of Criminal Justice. 
Stephanie Gendell supervises CCC's policy associates and government relations work and manages CCC's Child Welfare and Juvenile Justice portfolios. Stephanie often serves as an expert on children's issues for the media, particularly in the fields of child welfare, juvenile justice, early childhood, and government relations. Stephanie's recent work includes researching and drafting CCC's report, The Wisest Investment: New York City's Preventive Service System, successfully advocating for the passage of New York's Kinship Guardianship Assistance Program, successfully advocating for $150 million in restorations for child care and after-school programs, and continuing to advocate for a much-needed increase in the number of Family Court Judges. Stephanie represents CCC on numerous task forces, committees and coalitions such as the ASFA Child Welfare Coalition, the Juvenile Justice Coalition, Judge Kaye's School-Justice Partnership, and the Advisory Committee on Pregnant and Parenting Teens. She is the Chair of the New York City Bar Association's Council on Children. Stephanie received the 2011 NY State Bar Association Levine Award for Excellence in Juvenile Justice and Child Welfare. Prior to coming to CCC, Stephanie spent almost eight years at the Administration for Children's Services (ACS), where she was the chief of staff to the general counsel and then chief of staff to the executive deputy commissioner. Stephanie graduated with a B.S. in human development and family studies from Cornell University and a law degree from Harvard Law School.
This is a part of the Equality Indicators' Change Maker Q&A series. This ongoing blog series aims to highlight individuals and organizations who are actively working to increase equality. The views expressed here are those of the featured change maker and do not necessarily reflect the views of CUNY ISLG.